Classic Industries' Parts and Accessories for Mustang catalogs have what you need and more!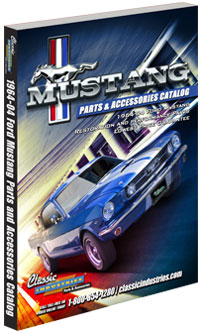 Classic Industries' 1964-2004 Classic Parts for Mustang Catalog is the most complete and comprehensive parts catalog for the Ford 1964-2004 California Mustang. Our extensive selection of restyling, performance, modernization and customization parts are now available to satisfy nearly any 1964-2004 Mustang owner.
Our brand new Mustang 1964-2004 catalog is available in a full color printed version delivered straight to your door via US Mail, or you may download our digital pdf catalog for convenient desktop catalog browsing.

Coming soon - Mustang 2005 and Up! Enroll for updates on our third Mustang catalog!

*Shipping charges will apply for delivery outside the 48 contiguous U.S. states.